Reiki 4 LTC & Self Care
NURSE'S YOU HAVE GOT TO READ THIS ARTICLE!!!!
Here is a portion (we need you and your patients need you :() then come back and join our class and the Reiki Revolution Community!! sign up below!
Nurses are an excellent group to study when it comes to caregiver burnout and Reiki. Many nurses have added Reiki to their skills, and they are a population prone to burnout and compassion fatigue. Studies involving nurses' self-care have demonstrated that Reiki can help prevent and heal caregiver stress and overwhelm. Nurses who practiced Reiki on themselves reported that they choose to do so for daily stress management and self-healing, among other reasons (Vitale, 2009). Perceived stress was also significantly reduced among nurses learning Reiki, though less so if they did not practice self-help Reiki during the study (Cuneo, 2011). In a study of nurses with "burnout syndrome," Reiki was found to provide a significant relaxation response (Diaz-Rodriguez, et al., 2011).
It can be challenging to return to warm, caring feelings following caregiver burnout. Brathovde (2006) and Whelan and Wishnia (2003) reported increased self-satisfaction with nurses' work, and a returned ability to feel caring toward others after the nurses had received Reiki training and used it on both themselves and others.
Click for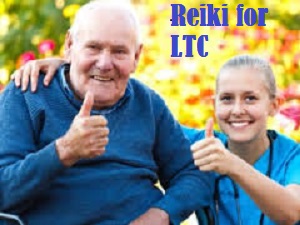 What is Reiki for Self Care? 
Just what it sounds like It is all about you. Everything that you need from Reiki with an emphasis on you.
How to use the benefits of Reiki to assist you in your healing, tools to
create a peaceful environment,
reduce anxiety & stress.
You will also learn the 5 min healing for Reiki on the go.
You will have the skills to assist family, friends, clients and residents! 

Join a Community of other like minded individuals. 
Learn from each other and have access to ongoing information and techniques to assist yourself, loved ones, clients and residents. 
This Introductory class is being held at a deep discount,
Usually $225.
For this Introductory class you have access to the Reiki 4 LTC class as well as ongoing monthly trainings.
Only $99.00.
After the class you will have access to our Private Facebook Community and ongoing tools and techniques to keep you informed and connected.
Join today private and group classes available
Class space is limited
save your spot today!!!!