Reiki for Long term care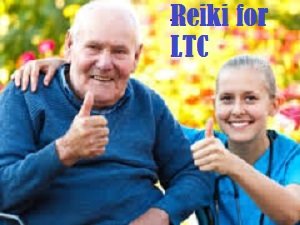 Reiki for Long Term Care is a program that was developed by Ann Shacar RMT, in response to the needs of the residents and staff of LTC facilities.  This program is designed to teach staff the principles, and techniques of Reiki and how to use them to assist residents as well as themselves, emphasis is placed on behavior modification, dementia, anxiety & stress management.
Reiki LTC is taught in your facility for the convenience of staff. Ongoing training is provided based on the needs on the facility. 

Why Reiki LTC?
The population that is now entering LTC and assisted living facilities are expecting to be able to access alternative care. Reiki is becoming a household word and no longer some foo foo nonsense. Reiki has been researched and proven to work. There are numerous studies on the healing effects of Reiki, and not just for the clients but also for the practitioner. In a matter of hours you can learn the basics and be able to assist yourself and others. No longer do we have to rely solely on others for our well-being. Taking our own health in our own hands is empowering. 
For employers and business owners..... 
Bringing Reiki into your facility / business will benefit not only your residents & clients but your bottom dollar. By having an Alternative Health program for your staff and residents you are giving them the tools to both care for themselves, and the residents in many ways. As Reiki becomes a household word, people will be looking for it, along with yoga and meditation, when assessing facilities. In fact, amongst the health-conscious baby boomers, Reiki is already in their preferred facilities. The only question is, will this include yours?
To learn more about Reiki and how it can benefit your facility, residents, employees, loved ones and yourself contact. I would love to sit and explain the Reiki for LTC program and it's benefits.
Reiki Research